Galentine's Celebration for Girl Bosses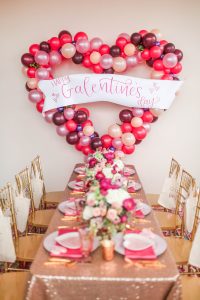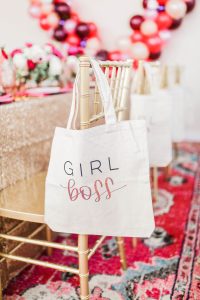 AS SEEN IN THE WINTER 2021 EDITION OF MINGLE MAGAZINE
Running a woman-owned business, I find it extra important to celebrate the friendships I have created with other like-minded woman-owned businesses in my community. I have operated an event rental business in Dayton, Ohio, for eight years; we offer props and decor for weddings and events in the area. For the last couple of years around Valentine's Day, I have designed a special Galentine's event at my warehouse's showroom for my local "friendors" — my friends in the wedding industry whom I work with on local events throughout the year in a variety of capacities — to collaborate on and attend as a guest.
Simply calling these ladies "vendors" seems too impersonal, so I like the term "friendor" much better. Because we have worked together for several years, we have become friends and allies. This event is a great opportunity for us to have a few hours to ourselves, immersed in our own event design, while dressing up, getting pampered, sharing ideas and industry stories, and collaborating on upcoming projects.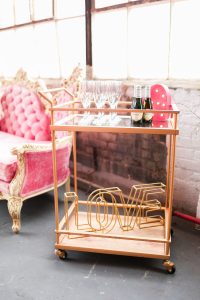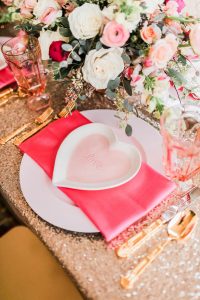 The event was pre-planned to fall on an early weekday, as all of the women involved are typically busy from Thursday to Sunday with wedding operations. We included a variety of women who serve the local wedding industry, including a wedding planner, photographer, stationery designer, cake baker, custom cookie designer, cupcake baker, makeup artist, event rental owner, wedding venue owner, calligrapher, florist, caterer, and balloon designer.
Several hours before the event began, the details started to arrive and come together. These specifics included the florals, table decor, the balloon heart, and other accents that needed time to put together and assemble. Closer to the event start time, the other ladies who prepared items offsite started to gather, bringing with them the stationery, gorgeous cake, cookies, and cupcakes, as well as the menu items from the caterer. As everyone arrived at the event, they had an opportunity to take turns with a makeup artist who offered a custom makeup application.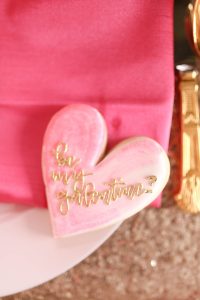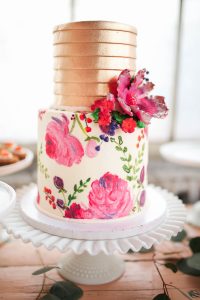 Our photographer, Emma McMahan, snapped photos throughout the event, with shots of all the details each participant provided and of the ladies setting up their specialties. The images are helpful with marketing on social media and their websites. In addition, Emma took individual headshots of each girl boss to use for marketing purposes, and we also posed for a group photo to commemorate the event.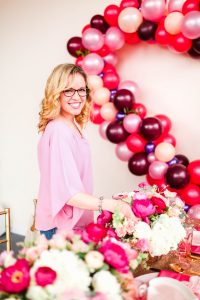 Before leaving, each guest grabbed a canvas bag customized by the calligrapher and filled with items donated by each attendee, representative of each business. Such goodies featured a mini-bottle of champagne from the wedding planner, a customized notebook from the calligrapher, hand-lettered cookies with each ladies' name from the custom cookie vendor, and more.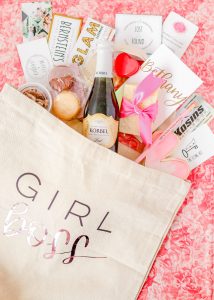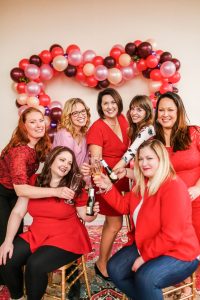 The event has now taken place two years in a row, and I am looking forward to designing the 2021 party! This Galentine's Day bash has created new friendships, solidified existing ones, and helped build our circle of trusted vendors. Being able to provide wedding services alongside our friendors throughout the year is an amazing opportunity for us all. We love to work together any chance we can. I adore all of them and am always excited to provide services to weddings where they are also gracing the vendor team.
Vendor Team:
Photography: Emma McMahan Photography
Speciality Rentals & Studio: Lost and Found Event Rentals
Florals: Floral V Designs
Planning: KMC Weddings and Events
Event Rentals: Kosins Tents and Events
Hair and Makeup: Glam on the Go
Calligraphy: Eden & Vine
Caterer: Bernsteins Fine Catering
Custom Cookies: The Flying Key
Cake: Rachel Bakes and Co
Cupcakes: Jenny G's Cupcakes
Balloons: Balloon Dog Events
Stationery: Ivory House Creative